Always wanted a custom firearm but the price never seemed justifable. As I aged and watched loved ones health decline I realized how short life is, and that you cant take it with you. Time for some of the finer things in life....By doing most of the work myself, the cost was within reach.....so here it goes....
Started with an 1886 extra light 33 WCF Winchester, all original but boy was the finish on the metal worn and discolored. Still, if it shot good I would keep it as is. Well, groups were not good enough for me (with a lever and a tang sight my criteria has always been 3 shots average 3" or less at 100 yards from a bench). Usually can reach that with fiddling, but trying different powders did no use in this 33 WCF, the best average I got was around 4 or 5". Decided to build my dream gun on this action. I know some of you are cringing. Sorry, I do understand how you feel about the loss of an original Winchester, but believe me, if this one had any prettiness to her I would have left it alone. In fact, it was purchased with a rebuild possibly in mind...I purposely passed by many nicer 86's because I knew I wouldnt want to mess with a better condition one.
So, ordered a barrel off of Montana rifleworks and had a firm in Utah octagon her. I can do this work myself on my brothers mill but my time could be better spent.
This photo is the first metal work done on my lathe downstairs...turning the barrel shank. Had to modify the lathe as I didnt have enought bed length to do threading and chambering as it was setup: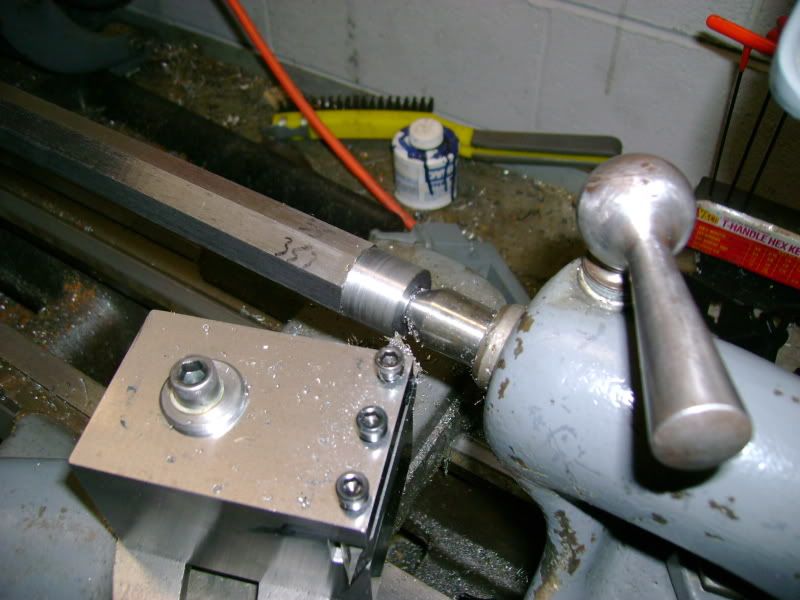 Here is the barrel threaded, and I am cutting the chamber. Had to modify the reamer, as it came from the manufacturer it was about 0.040" too short! I contacted them and was told that there are no real specs for the 33 WCF, and that their reamer is how all the manufacturers cut their chambers. Long story here I will basically skip, but I have original ammo from the 1920's, Factory new cases from the 1950's and some from the 1970's, and new Jamison cases from the 2000's. In every case the reamer didnt allow the case to seat by about 0.040". Being a tool and die maker I was able to set up a cutter grinder and recut the reamer to the correct dimensions. so here is the chamber being cut:
Here is first test of the barrel on the receiver.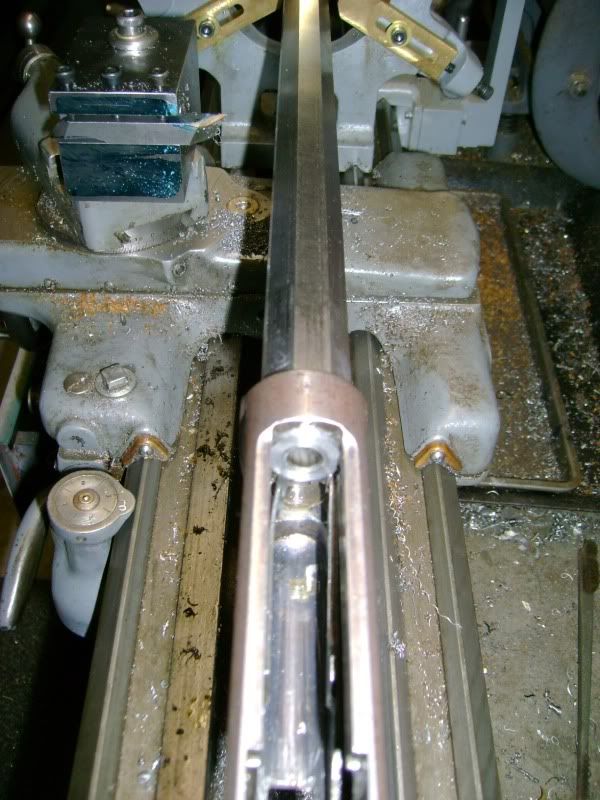 Bought some wood on ebay about 10 years ago for just such a use. Here is the forend wood being fitted: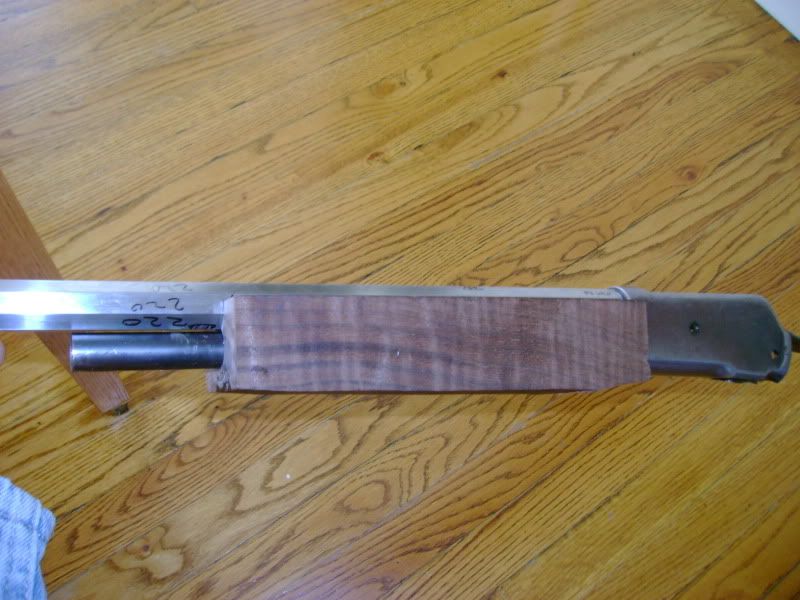 Now the buttstock is being fitted to the receiver and the buttplate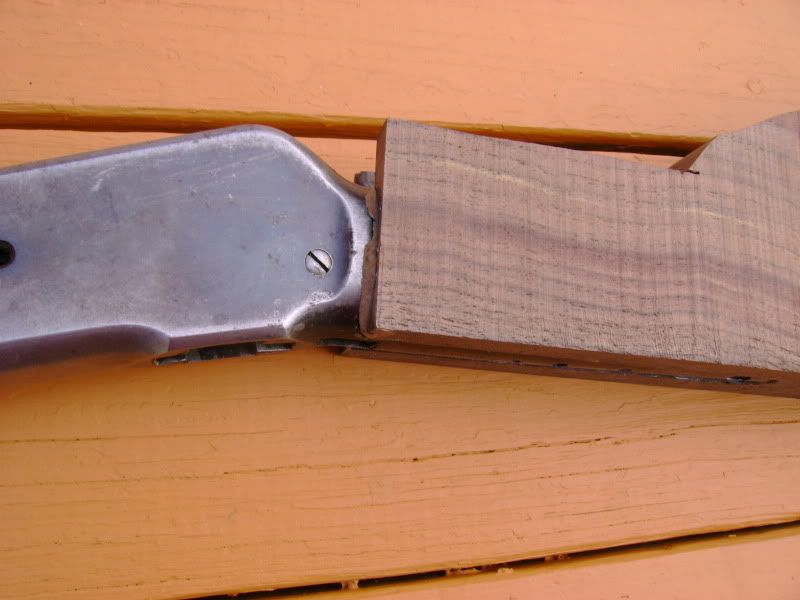 Coming along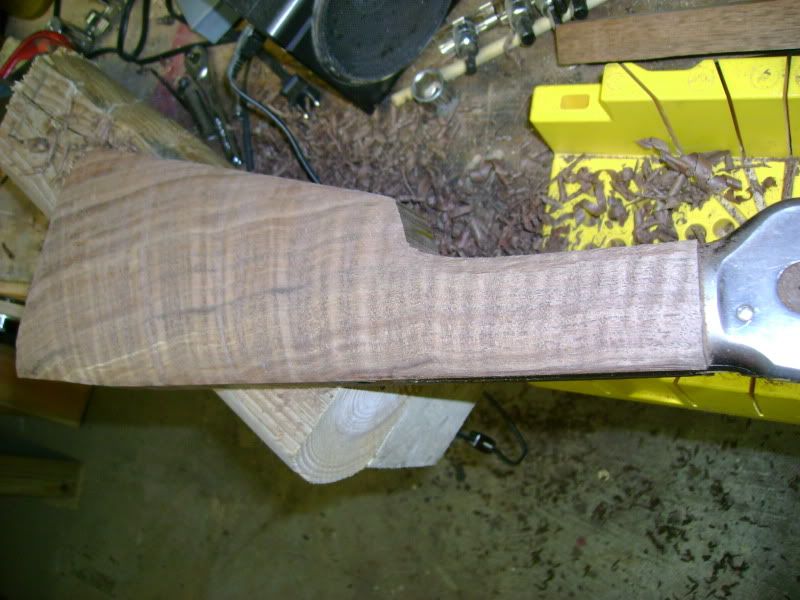 Fitting it all together
Decided on a full length magazine tube. This receiver has a threaded hole for the mag tube, so here are threads being cut on the lathe on the magazine tube.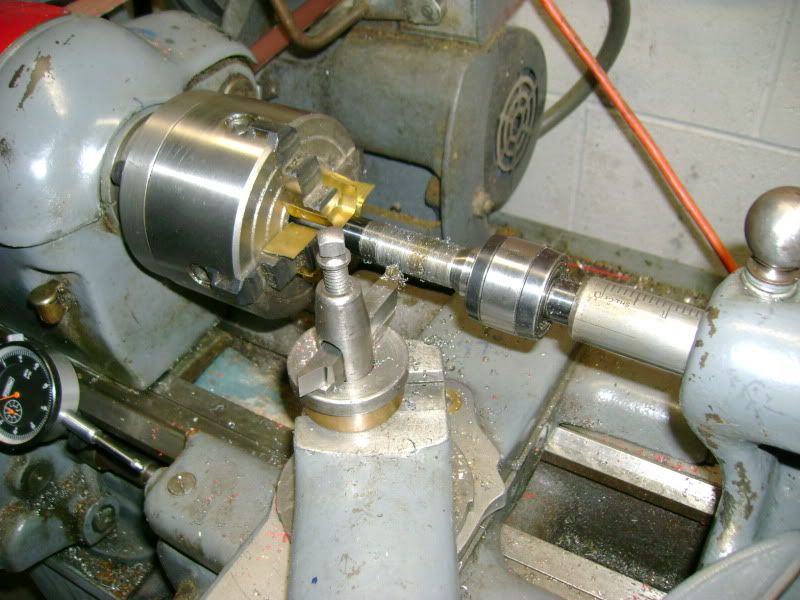 With the wood done, I started polishing the metal...this took awhile. Turnbull wanted $300 to do the polishing of the receiver, but since I had to polish the barrel anyway I figured I could save money by carefully doing it myself. It sure took awhile!!! Eventually it was done allowing final tweaking of the stock, then staining and finishing of the wood. The parts were sent off to Turnbull and within 3 weeks I had them back with a beautiful case hardening on them! In the meantime had the barrel on my brothers mill where more dovetails and the lettering was cut. Just got it all together and have done some limited shooting of it...shows potential!!