I got around to testing some
35
Rem
bullets for accuracy, penetration and expansion on game. TedH graciously sent a box of 190 grain cast bulelts. He'll have to report in with the composition of the bullet, all I know is they were cast with a gas check and lube. I averaged the 20 bullets and got 191.9 grains. I compared them to Hornady LeverEvolution and Remington Core-Lokt, each of 200 grain weight. I tried to get the 190 cast and the 200 RCL to the same velocity for fairness in comparisons. It took a lot of load experimentation but I ended up using the 190 gr cast with
35
grains of H322 for 2065 fps average and the Remington Core Lokt were over 36.3 grains of H4895 for 2039 fps average. I could not get the velocity closer without sacrificing a ton of accuracy. The 190's require a deep seating depth to cycle in the Marlin, with the bullet seated to the last crimp groove and a heavy Lee factory crimp applied. The Hornady's were factory loaded 200 gr and I did not chrono them for velocity. Rifle is a Marlin 20" bbl w/ a 4X scope with German post reticle. First the groups at 100 yards, shot prone with no sling or rest: The Remington Core Lokt put 3 shots into an inch. The Hornady did just under 3 inches so I shot a 4th shot to be sure. The cast bullet threw one round of the first 3 shot group so I shot another into the group. It put 3 shots in 1 1/2 with the flier making the group 3". Next the penetration. Similar accuracy out of my 1909 year
Rem
Model 8, but I was more interested that it functioned with all of them and it did, and it has open sights. I had two rear halfs from cows that weighed close to 300 pounds per half. We put three layers of shrink wrap to keep the splatter down and also give some resistance like the hide would. The two halves were hung side x side. I figured the
35
Rem
is most commonly used from a stand or jump shooting so 50 yards would be common. I also considered feeders and open shots could have it going 100 yards pretty often. Closer and further are possible but less frequent, so I compromised and did the penetration testing at 75 yds. I thought the bullets might go through one half and into the other but they did not. I shot marked 2 1/2 inches on the plastic and shot the bullets that far apart and in a straight string. Since I had the other half fresh I repeated on that side and averaged. All the bullets were oval shaped so I measured the expansion across the widest part. The cast bullet retained the gas check on it.
Bullet Penetration Expansion Weight
Horn 7" .782 187.5
Cast 9.75 .722 154.9
RemCL 16 .714 198.5
You can also see some of the wound canals in the photos. The Hornady bullet started to make a canal at around 3 inches and it was nickel sized. The cast bullet started at 1.5" and it was about quarter sized for 5 inches and then shrunk to a little over bullet diameter. The
Rem
Cl started at 3.5" and continued to a size between nickel and quarter but kept the same size canal to its resting place.
Any of these would be good for whitetail deer. I would not hesitate to use the cast bullet on animals up to around 275 pounds and out to 100 yds. The Remington Core Lokt would be good for deer, bear and I think up to around 600 pound up to 100 yds.
ACCURACY
AMMO SELECTION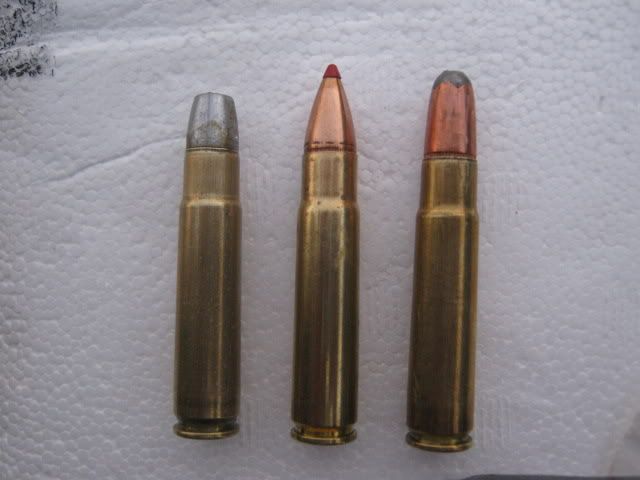 200 Grain Core Lokt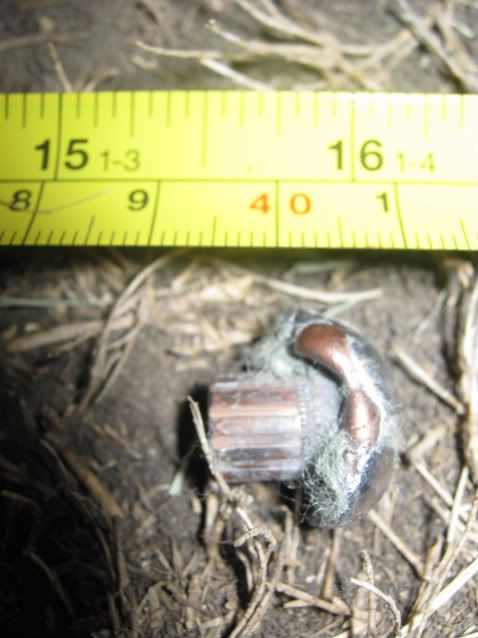 190 Grain Cast Bullet
200 Grain Hornady Lever Evolution
Wound Channels
Rem
Cl
Cast
Hornady
The 3 shots